Are you interested owning a custom designed one of a kind piece designed especially for you? Then please contact me using the below form, because no design is too simple or too extra to bring to life! Even if you don't have a complete design in mind I can create wonders from the embers of your idea. Plus, I am happy to offer you options that work within your budget!
Maybe you want something from my current collection but are wanting some adjustments? One of the benefits of being a small business handmade is items are not sitting around, getting dusty on the shelf. They are made specifically for you once your order is placed. What this means is that I can and will provide minor adjustments to the garments for a small fee. From lengthening hemlines for my Leggy Lizzos to shortening sleeve lengths for my Petite Patricias. General alterations can also include adjustments to one major garment measurement, be that of the bust, waist, or hips. Even though we may not fit perfectly into a "standard" size doesn't mean that we don't deserve to look good too!
Reach out using the "ask a question" contact form on the desired garment's product page prior to ordering. For a custom design, or to completely custom sized currently available design, use the form below and I will be happy to provide details on price and lead time.
I will make your custom design everything you dreamed it would be!
CUSTOM DESIGN EXAMPLES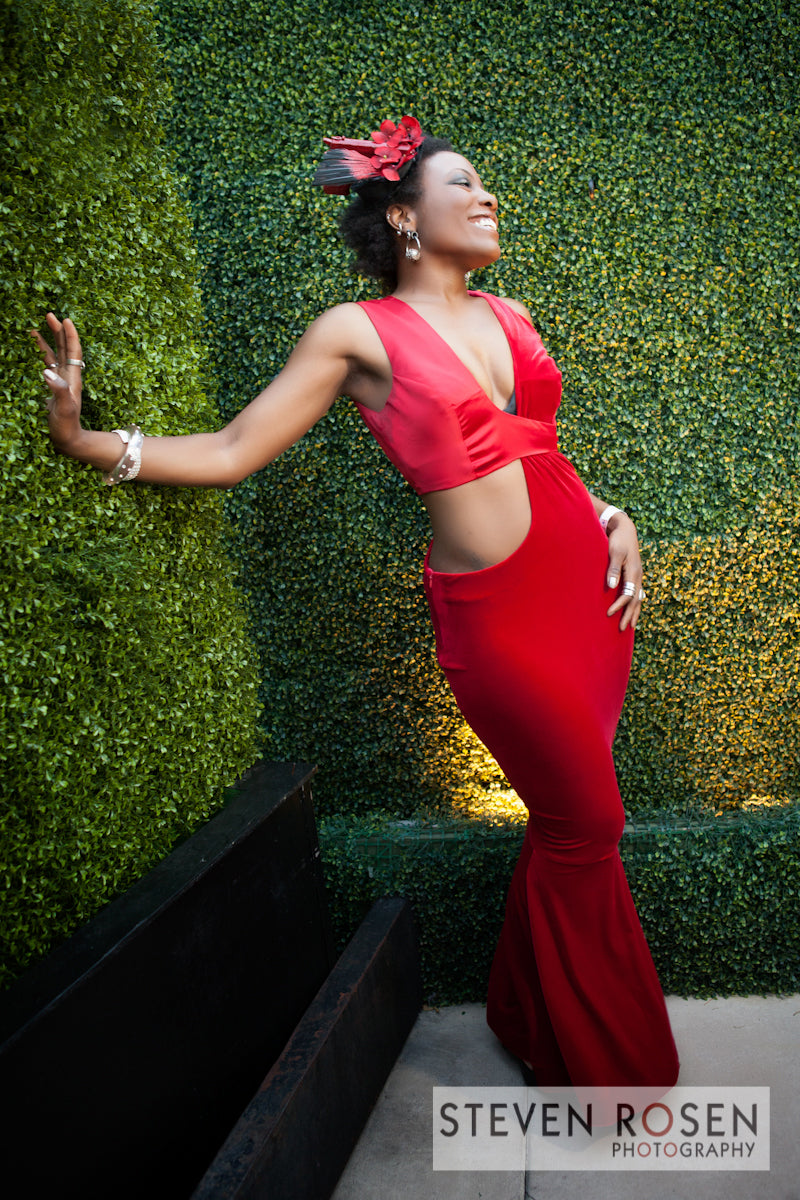 Impactful Minimalism
How do you highlight two already quintessentially luxurious fabrics and not over shadow the wearer? This design utilizes only the most important lines to enhance the wears silhouette and allow the fabrics' natural contrasting beauty to shine.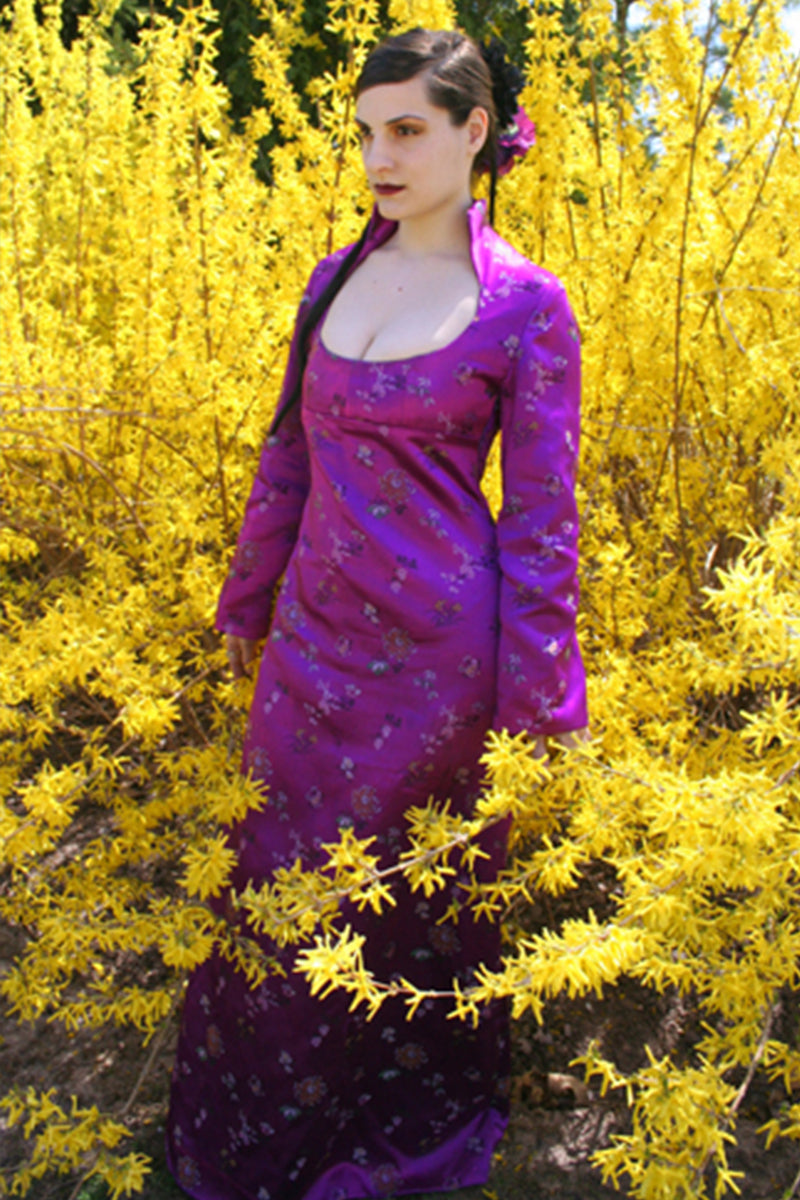 Chinoiserie Unbound
Silk satin brocade paired with figure flattering clean lines reveal an unexpected yet functional design surprise when sashaying away.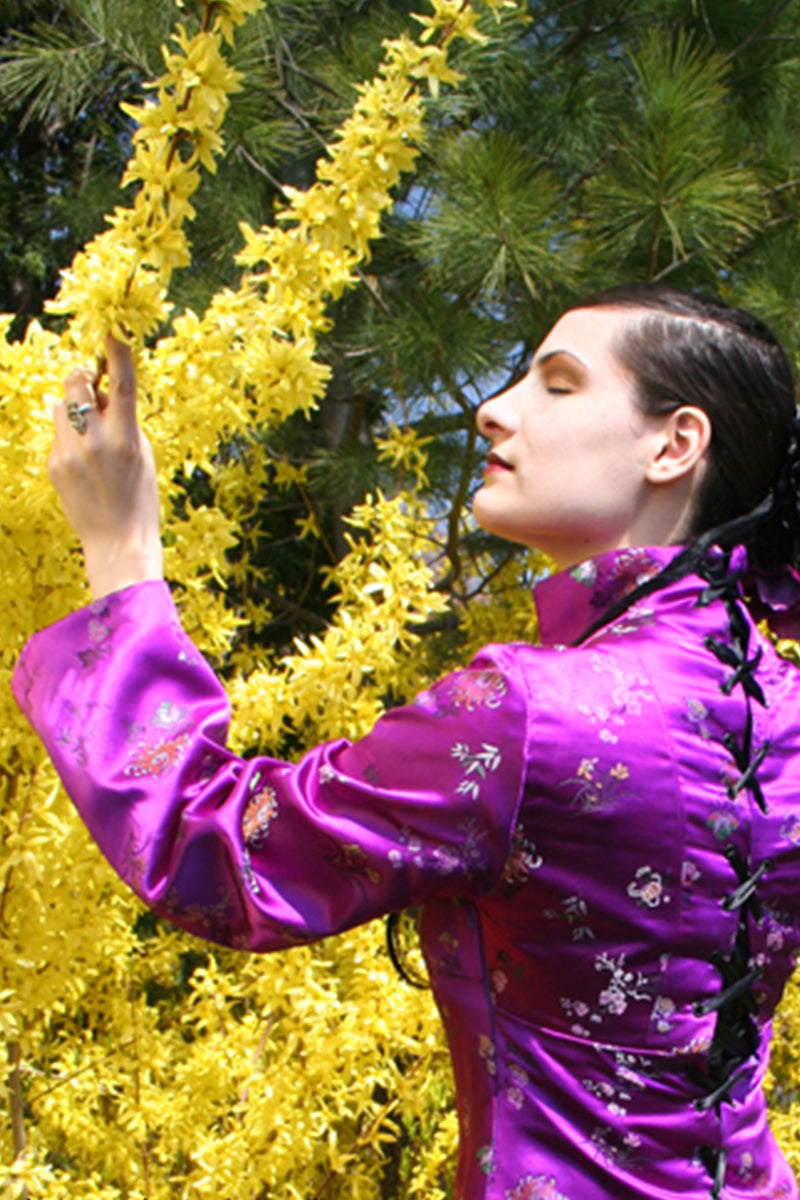 Chinoiserie Unbound
The fully laced back is the height of form and function. This outfit was designed to never be "off limits" due to over indulgence, weight fluctuations, or the desire to be comfortably dressed rather than stylish.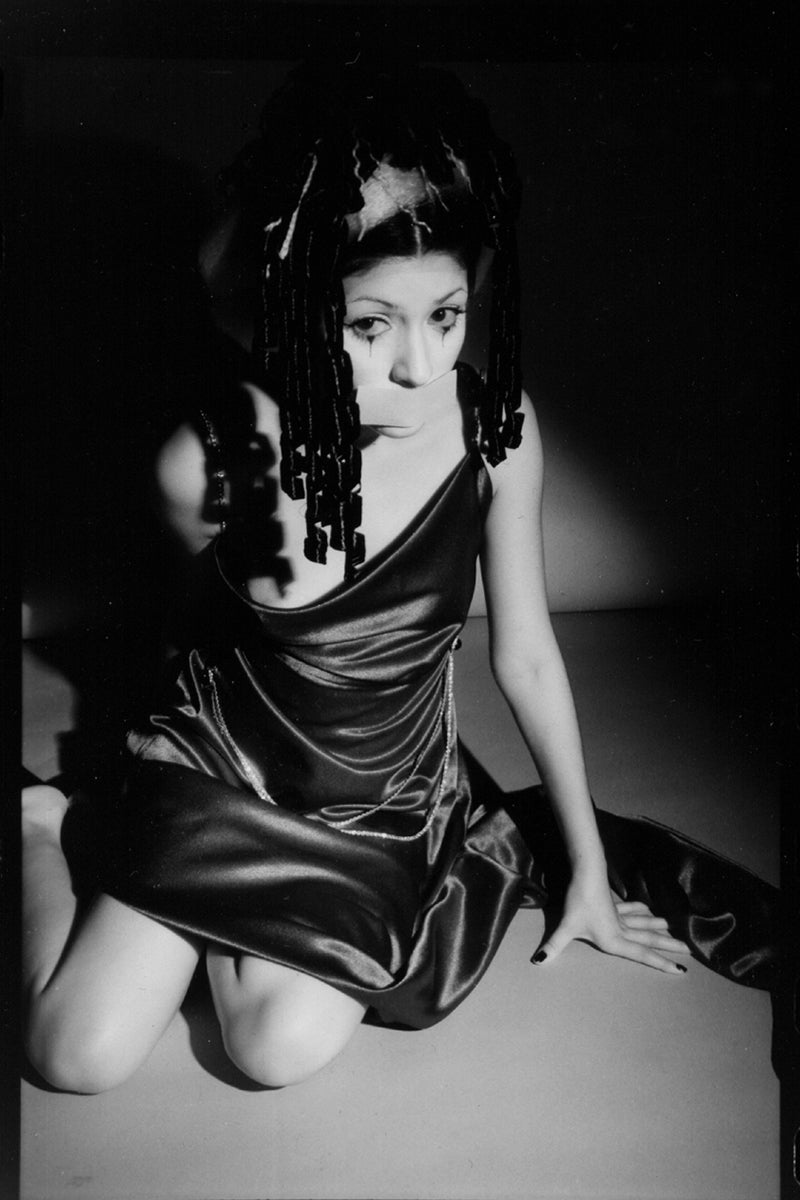 the Sad Marionette
An evening dress inspired by the flappers of the roaring 20's and the excess of the 80's. With an asymmetrical cowl neckline, satin ball button closure down one full side, diagonal high-low hem with delicate pointed train; the rhinestone straps and embellishment are the real shoppers.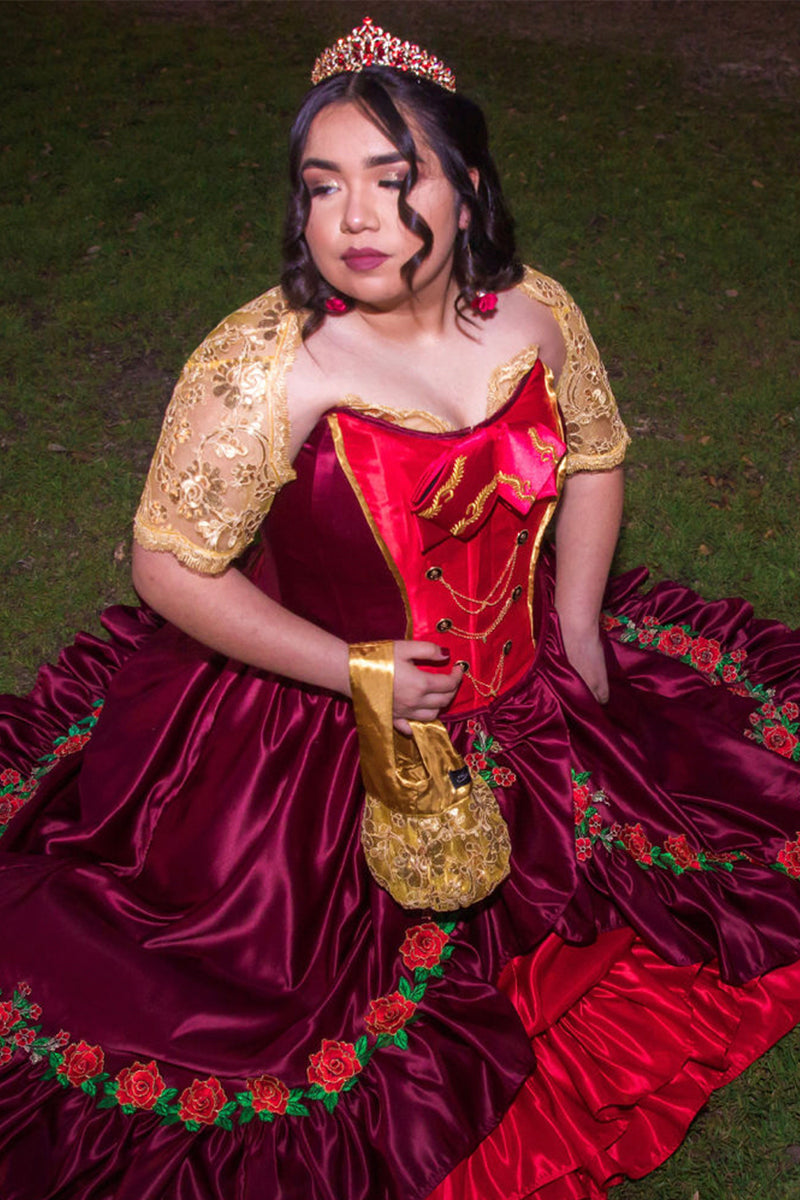 Mariachi Quince
This 5 piece Quinceanera outfit was designed with Jade's love of Mariachi as inspiration. The lace is hand sequined, the corset boasts 14k gold chains with vintage enamel rose buttons. While the corset was created using historical techniques and steel boning. The ball skirt took over 20 yards of hand gathered fabric.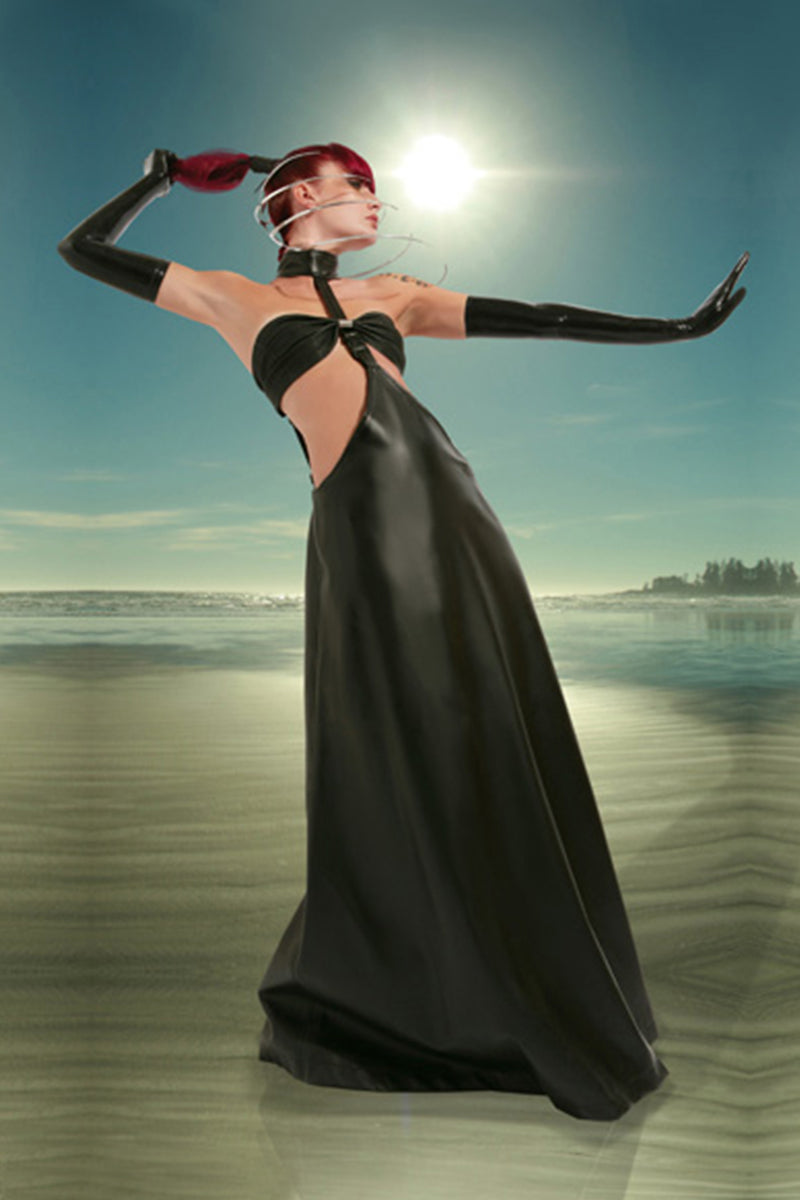 Uni-Strap Overall Dress
The first iteration of an ever evolving design concept to elevate everyday clothing styles. The historic working class overalls are recreated using minimalist lines and given elegance thru femininity and fabrication.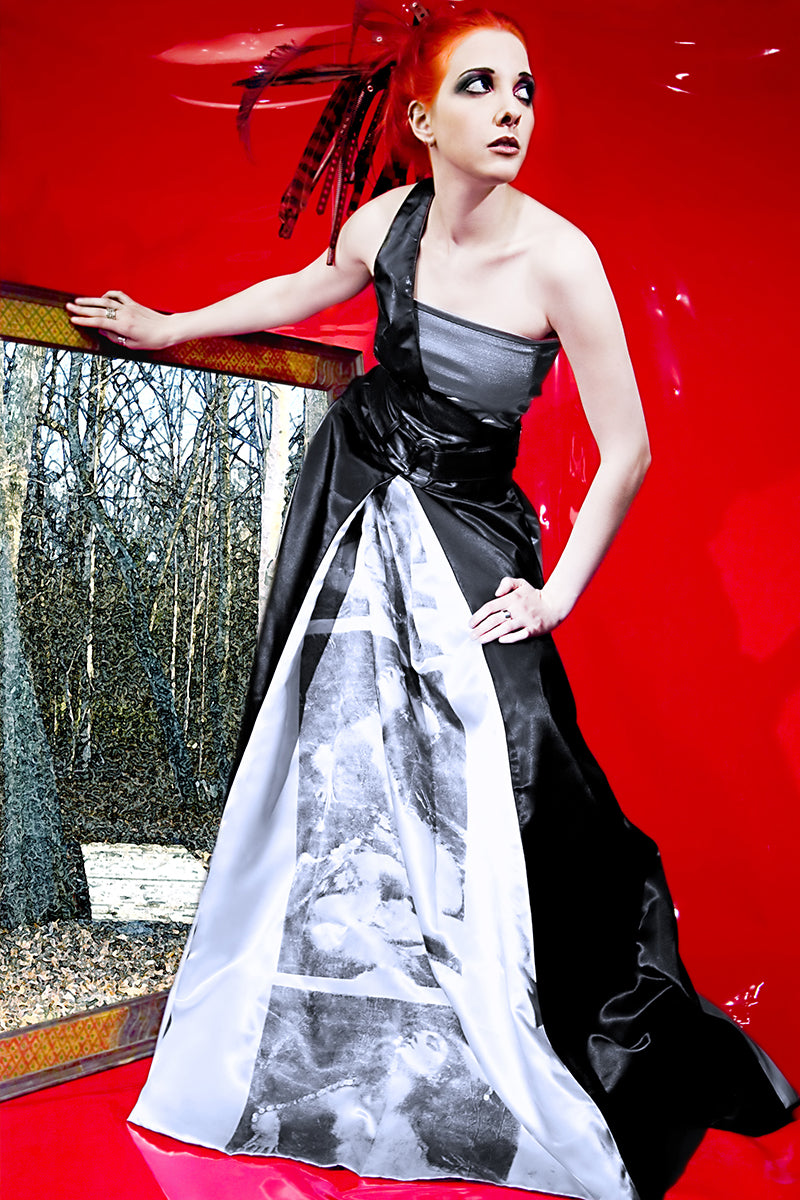 An Uncommon Pairing
Two designs were brought together by a photographer for a conceptual photoshoot. This eye opening experience marked the beginning of my journey to focus my design on separates that could be successfully paired despite their original design intention.
FROM CUSTOM DESIGN CLIENTS
Customer reviews
Customer reviews
Not only a fabulous designer but the quality and fit of the clothes are amazing! the Aesthetik created a custom couture wedding outfit for me, long distance, and it came out beautiful. It was everything, and made my non-binary, genderfluid, dreams come true!
Customer reviews
I love, love just how immaculately made and finely detailed our outfits were. She was able to coordinate mine beautifully all without taking away from Jade's. This allowed us to look and feel our best on my daughter's special day!
Customer reviews
The whole custom design and creation process was amazing from start to finish! The jacket is exactly what I wanted, and Stacy is a master of crafting and design!
Customer reviews
I was blown away by the level of craftsmanship and attention to detail in every garment. From the rich, luxurious fabrics to the intricate embellishments and unique designs, every piece from the Aesthetik is a true work of art. 😍😍 Each piece feels made just for me, and I always get compliments whenever I wear them!
Customer reviews
Design that is elegant and edgy, playful and sophisticated at the same time. Tailored construction with attention to detail. This is my favorite line. Honestly, when I wear the Aesthetik I realize how much other clothes suck.